One of the songs I really like right now is titled "Giving In". She sings about giving in to Jesus and being okay with whatever route is taken. Not giving up, but completely giving in to someone bigger and far more powerful. I feel like that right now. I can "do" a lot of different things to navigate through life, and then there comes a time that I have to give in. I am left to trust that all the ideas, hopes, dreams, activities, and loves will be safely taken care of in the arms of Jesus, because I am giving in to Him. He continues to show me the benefits of this. I've prayed for some big things and I've received some big answers.
I recently received a cancer diagnosis. One of the benefits I've received through Jesus during this time is peace. He gives me peace everyday. Probably the most difficult part of this journey so far has been telling my kids, and them telling their kids. Nobody likes to deliver news that is sad, and cancer is sad. Still, even with that, God continues to give me a clear path. He has led me to the right doctors, He has brought a huge support system, He has lovingly led the way. I prayed for Him to reduce stress and all that comes along with that and He promptly did that as well. He has provided the means to move forward, the food I've needed to nourish my body, and the strength and energy to tackle all that lies in front of me.
I have a friend that lives in Holland. She has been guiding me along the nutritional path of juicing and raw foods. This is a life change. The occasional ice cream cone has been put aside and celery juice has taken a stand! They don't compare at all, but I will admit that I feel pretty good most of the time.
Our summer. as you know, was packed with a lot of fun. I traveled a lot and enjoyed my friends and family. Now, I'm home for awhile to recover. While talking to my oncologist I told him that I need to travel and that I have plans for two trip with my family. The trips are already paid for, I just have to go. I told him that I see this cancer diagnosis as a bump in the road, and my life was not going to be defined by cancer. He smiled and said "You are the kind of person that beats cancer!"
I know cancer is a big deal, and I have stage three. This is why I am taking steps to build my immunity and strength. The peace I feel carries me through each day and alleviates stress. I feel grateful and happy. I do not intend to allow cancer to define the way I feel. I'm not giving it power or speaking into it. The truth is I am free to be happy, peaceful, grateful, and excited about the future. Some have commented that it must be very hard, but in reality God has surrounded me in such a way that I can rejoice in all the ways He is lifting up and giving me courage. It's so, so good!
Last weekend my team and I had a Garden Tea. This event was full of work and delight at the same time. We really enjoyed it. The event was small, which has convinced me that small is better. The food was scrumptious. And, the surroundings were beautiful! The point of the Garden Tea was to bring women together to fellowship with one another. To talk. I am here to say; it worked!
My grandchildren and my daughter are into Spiderman right now. They all have the suits to prove it. One of the Grands asked me if I was going to get a Spiderman suit too so I could ride my bike around town with them! What do you think? Should I get the suit and tour town on my bike with my Grands and Daughter?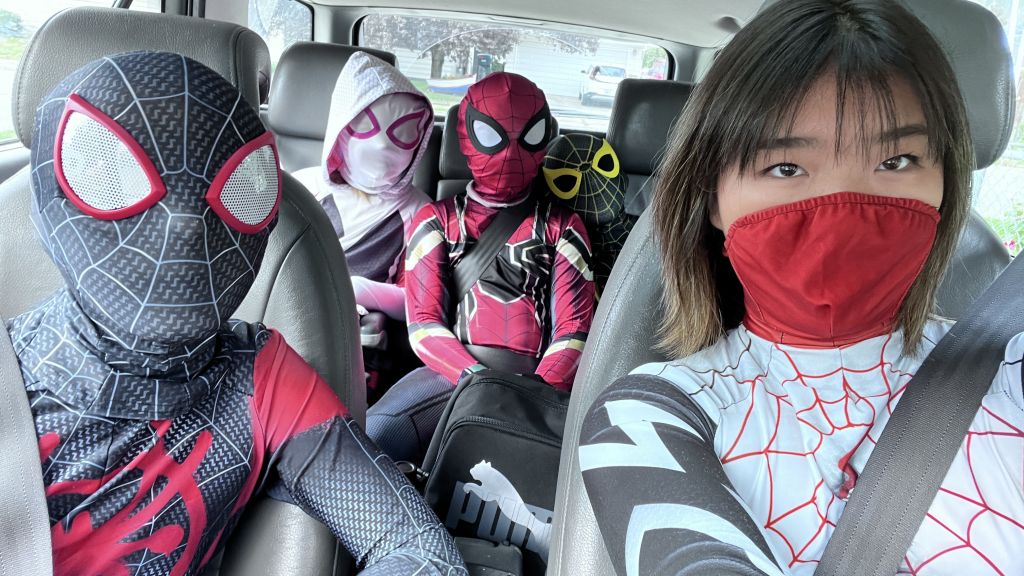 My daughter and I spent an evening together getting tattoos. Ya all know I like a good tattoo! This time I designed my own with all the things I love: travel, exploring, being sent by God, palms, and a panda for good measure. (My daughter and granddaughter love panda's so I did it for them.)
I believe that wherever we go we are giving light to those around us. We don't even have to say anything. I can notice someone and smile and that brings light. God sends us to all kinds of places throughout the day, and in those moments we have the opportunity to give our light to someone else. "Send me" is powerful especially when we believe that when we go He is sending.
Before we had our own Garden Tea my team and I went to a High Tea in town. I love doing new things and then branching off from what I've learned and doing my own things. Let me just say, I have a great team of women that know how to cook! We are more than a ministry team, we are friends, and I like that. Each one has a heart for God and a desire to be sent by Him in one way or another.
Okay, back to the cancer. I had a lot of tests. I was told that the cause of this inconvenience is something called Lynch Syndrome. It's a DNA malfunction that causes one to be highly susceptible to cancer. It's passed down through out the generations. I don't know who had it in my family or what side it came from, and I guess that doesn't matter at this point. I do know that I have to give in. I have to believe that God will make a beautiful story out of something ugly. He will take the Winter and turn it into Spring. When my life feels like a desert, He will spring up a well in me. I am giving in to His love and His grace. I am giving in to His peace. I am giving in to His mercy and His ways. I am giving in because I know He makes every season change.
It can be hard to believe when waiting for a miracle. But, I am believing in His promise of long life and blessings. I'm believing in transitions, not endings. Yes, I'm giving in to all He has for me.
The truth is that I can be Rooted, Empowered, Authentic, and Loved in any condition. With or without cancer these truths remain solid. Disease may try to threaten me, people may try to distract me, criticism may attack me, pain may try to break me. But, I am sent by the power of God to bring light into every room. Sent to call out the truth and then work through it with others. Sent to be an explorer, friend, leader, and hope giver. I can live a life of REAL wherever I am, listen to God in all circumstances, and continually give in to Him all of my life journey.
Pray with me and for me and my family through this time, and I will continue to pray for you!
4