Summer in our town is beautiful. This summer has been hot, so we've spent a few times at the lake soaking up the coolness of the lake. We often go in the evenings, and as I'm floating on the little waves by the docks I get to enjoy the sunset. It feels magical, peaceful, serene. I love summer in my town.
We've mixed things up a bit too with a couple of fun trips, fun activities with family, and a weekend away with my husband. We've been super busy with our RV rental business and learned a few important things along the way. One of my favorite family days was a 26 mile bike ride. Let me just brag a moment about my incredible Grands, they all did amazing on this ride. They pedaled their way without complaint and filled the day with fun. They did great. The two youngest were towed along behind their dads, they too were perfect. We pedaled to the Spaghetti Factory in the border state. The trail follows the river and we all found it a lot of fun.
My daughter and I enjoyed a road trip to Oregon. The scenery on this trip was breath-taking. We went to a women's conference. There were several gems that we both came home with. One of the speakers spoke about Jael in the Bible. Do you remember her? I too have given talks on Jael, and she has become one of my favorite characters. It's wartime. Deborah and Barak were fighting Sisera. Deborah prophesied to Barak that "this is the day in which the LORD has given Sisera into your hands…" So, Barak and ten thousand men went after him. Sisera ran from his chariot and fled away on foot, but Barak kept after his army and the army of Sisera fell, not even one was left. Sisera fled to the tent of Jael, when she saw him she greeted him kindly and told him to not be afraid, come in. She covered him with a blanket and gave him some milk to drink. He asked her to guard the door, but instead, when he was asleep she drove a tent peg into the temple of his head. Later, when she saw Barak she said to him, "Come, and I will show you whom you are seeking." Barak entered with her and behold Sisera was lying dead. Okay, I know its a gruesome story, but Jael used the power over her enemy and cleverly fought the battle. She took up her stake and rose to victory. The point of telling this story is that we as God's children have the power to take up our stake and fight for the will of God. I'm not recommending we do what Jael did, but I do believe we are warriors and we have the power to speak for freedom with our voices through prayer, truth, wisdom, strategy, and love. Women were made to solve problems, Jael certainly knew that.
After the conference I came home for a quick day and then left again with my husband for the Washington Coast. I LOVE the coast. Everything about it is my favorite, the salty air, the cool breeze, the sand, shells, rocks, all of it! It was a delightful time. We rode our bikes, took naps, sat on the beach. I loved playing in my art book with sand and shells. Our little dog frolicked; it was his first time to see the seaside, he loves it as much as I do!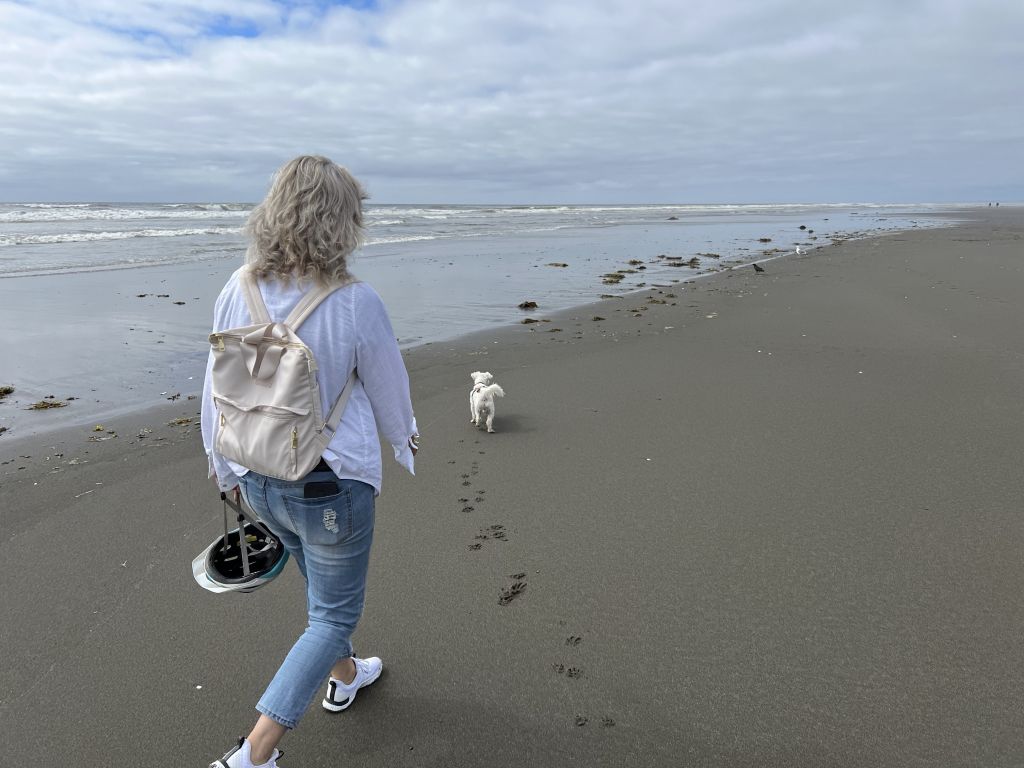 While on our beach vacation we received news that the renters of our RV, (slowing adopting the name of Philmore) had a tangle with the forest. Thankfully they were fine, Philmore, on the other hand landed several major scrapers, holes, and lost some of his parts. He is going to need a paint job and a few repairs. Even though we found this upsetting; it did not take power over our days or ruin the beauty of the beach. This brings me again to the voice we have within ourselves, the God Voice. I'm learning more and more the supernatural gift of what God has given us. When I am able to access Who He Is within me, I am able to rise above the crisis in dominion and power. It doesn't always work easily for me, but I do believe it is a core truth to live by. Like Jael, when I am able to take up my stake against the negative voices that want to lead me to places of doom, I am living in the supernatural power of God!
Upon returning from the beach I have enjoyed some quiet and busy days. My team and I are planning a mini retreat in September, so we've had good times exploring what that will look like. My daughter and I are planning a camping trip in a couple of weeks, and this weekend we will be enjoying our Grands. The more I live each day, I am recognizing the fragilness of time. Summer just started, and now it is close to ending. There is so much to look forward to and so many memories to talk about. The days of being young have passed me by and before I can process being in my 50's I will be 60! When I think of the years and realize that in just 30 years I will be 90, I am reverent of all that I've been blessed with and full of wonder for all that is yet to come. The precious gift of life from the moment I was conceived is a gift worth talking about it and a gift to preserve for all the years to come. When I consider the moments of triumph it gives me hope for the times things look hopeless. I can take up my stake and speak the truth about life. I can step out in faith and walk the line of risk, because the voice within me is supernatural. You can do this too!
In just five short weeks I'll be back in school, as well as my daughter. It's her senior year and she will be graduating in December. Next summer we will be preparing for her to move on to a new phase with new and exciting adventures. I say this with great excitement for her, and also deep sadness for me. I will miss her. At the same time I am so proud of her and her ability to use her voice for good. Her internal fight to take up her stake against the enemy of lies has given her that same supernatural Spirit of wonder and hope. I am in awe of all that God does in our hearts.
Happy summer, everyone. May the days ahead be filled with the powerful love of Jesus and the courage to stand, rise, fight, live, hope, and voice the love inside of you!
8